By David Summerfield
The Winddrinker Newsletter must let you all know about last month's amazing development in the marathon. I keep thinking marathon world records are going to be harder and harder to break. Not any more! Here's the simple story of 2 very talented runners who made their mark on history.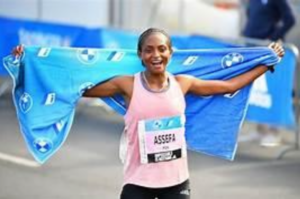 Jubilant Assefa! via capitalethiopia.com
First there's Tigist Assefa, an Ethiopian who won last year's Berlin Marathon (2:15:37) and came back with a 2:11:53 this year. The narrative of how it happened was breathtaking. She went out on WR pace, and pulled a dozen runners with her. Her splits were all on-pace, and realizing there were no more runners around her, she blitzed across the finish line, knowing the last few kilometers she would easily break the record. She basically never slowed down, and had negative splits. The 2nd place runner (Kenya's Sheila Chepkirui) was 6 minutes back! Oh what a way to break a world record. One article focused on her shoes (which has become slightly controversial). They are Adidas, and were not publicly for sale yet (yes, an advertising gimmick). They are called the Adizero Adios Pro Evo 1 and are purported to be 40% lighter than any other racing flat. And of course they have a "first of its kind" forefoot rocker which is lab-tested to promote forward momentum and increase running efficiency. Don't they all claim that? Wasn't that Nike's Vaporfly model? Anyway, Tigist said after the race that they were incredibly comfortable. I guess we all need to go get a pair now…. I must apologize that I couldn't find a compelling story for Tigist. I still think the men get better coverage/interviews. Now let's move on to the new men's WR in Chicago. And surprise, it wasn't Eliud Kipchoge. He did run a 2:01:39 in Berlin (in front of Tigist), and 9 men runners all got under 2:05 – yikes. That was a "fast" race. But Eliud's world record of 2:01:09 was not broken, even though he has won 5 Berlin Marathons in a row now.
The big news happened at the Chicago Marathon – where Kelvin Kiptum ran a 2:00:35 – getting oh so close to that magic sub-2 hour mark. Both Kelvin and Tigist ran their world record marathons on their 3rd ever marathon. Kelvin in one calendar year ran a 2:01:53 in Valencia, Spain and then a 2:01:25 in London. His 1st marathon (2:01:53) is the fastest "debut" marathon for any runner.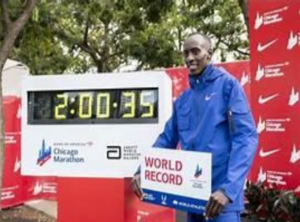 New WR for Kiptum! via bignewsnetwork.com
Kiptum's story is really remarkable. The best article was written by Celestine Karoney – the BBC Sport Africa-Nairobi reporter, published October 20th, 2023. Symbolically, as he got ready for his 1st local race in Kenya, he had to borrow a pair of running shoes. He couldn't afford a pair of his own. That was just 5 years ago! Today, he sports a Nike pair of what are now called "super shoes". Being interviewed at the finish line, Kiptum admitted "My life has now changed". I love the fact that he was inspired to start running because of his cousin who was a pacemaker for my hero Haile Gebrselassie. And, according to tradition, Kiptum grew up herding his families' animals, barefoot, of course. And he didn't go the normal route for beginning Kenyan runners – by training on the track. He had absolutely no money, and couldn't afford the shoes. His father wanted him to study to be an electrician, but gradually saw a very motivated youngster. And he's only 23 years old (Eliud is 38!). Kiptum's coach wants him to slow down a bit, since this intense running will wear out his body in just a few years. Kiptum is clearly fearless, restless, impatient. He wants to be the one to break the 2 hour barrier, and next year is the Olympics in Paris. He desperately wants to make the Kenyan team, and will be competing alongside Eliud. I read that Kiptum went 4 years without a significant win, but kept pushing. His father did end up supporting his efforts, and said after the WR run, "I praise him as an obedient son who has stayed true to his upbringing."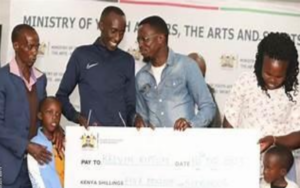 The Whole Kiptum's Family bbc.co.uk
Kelvin's father is on the left, holding his grandson. Next to Kelvin is his coach Gervais Hakizimana.
This makes me all the more focused on the Paris Olympic Marathon now. Won't you watch it with me next summer??