The Mature Runner
By David Summerfield
Here I am still getting caught up with the breaking of world records. That's what I get for not running competitively anymore – so, I lost track of the marathon explosions that happened recently. The more I looked into it, the weirder things became. I think this article might disturb some of you, and I apologize in advance. I got sucked into the heroic feats of the Kenyan Eliud Kipchoge … world record after world record. Interviews put him in the same sentence as Roger Bannister, Neil Armstrong and stopped short of comparing him with Albert Einstein. My curiosity led me all over the internet. (I have no ill-will towards such this extraordinary runner by the way, only envy!) But the corporate world has gotten a firm grip on our shared everyday experiences such as "going out for a run." In an article a few months ago I got a little cheeky about Nike sinking millions of dollars into the "Breaking2" project. Hired (and paid mercenaries?) rabbits were given orders to run in a pyramidal phalanx (oops, sorry, that's from Ancient Greece) uh, formation ahead of the three superstars to reduce wind. They had a perfectly flat paved racetrack – a Formula One racetrack in Monzo, Italy, measured at 1.5 miles (thus 17+ laps).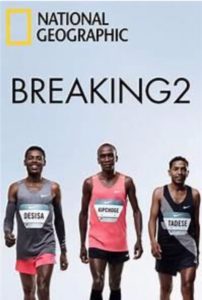 And Kipchoge emerged as the only one of the elite three to keep the pace and finished in 2:00:25. So, Nike still got to sell millions of $$ of their newly developed "VaporFly Elite" after the race was done (and of course all those runners were wearing the "barrier-busting" shoes). Since it was billed as a "private race" with rotating groups of three rabbits every few miles, this effort could not be counted as a World Record. To make the story even better, Nike "teamed" up with National Geographic, which recorded the whole battle …er race, and got it up on YouTube. When I wrote this part a few months ago, I felt something was fishy. Besides going to such extremes, it seemed a bit inhuman, or plainly not human. The time and effort and money could have been spent on building a running robot that would not have any human-like tendencies/foibles and could guarantee it would cross the finish line in exactly 1:59:59. And then, changing the dial on some of the diodes and transistors, they could program a 1:49:59 "effort" the following year. But surely humanity is not ready for such a blatant usurping of a hugely popular activity called running.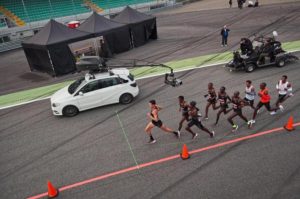 And now on to Oct. 12, 2019 and the INOES 159 Challenge. Again, I'm not really wanting to discredit anyone here, but a little research keeps coming up with amazing things!! First off, INOES is the fourth-largest chemical company in the world. What? And sponsoring an athletic event? Hmmm. I don't think they need the money, and they don't have running shoes to sell. They have a $61 billion/year revenue and employ 26,000. Well, Nike employs 75,000 and its yearly revenue is $37 billion. At least it's clear both companies are putting on these events out of the goodness of their hearts and are not trying to get rich quick.
Back to the name INOES, which combines Latin for a new beginning, and Eos, the Greek goddess of the dawn, and Neos, Greek for something new and innovative. INOES states its name represents the "dawn of something new and innovative." Okay, okay. So two years after Nike's commercial venture into staging an event to display their prowess in running shoes, along comes a global chemical company. (I would have enjoyed listening in on their board meetings back then "Hey guys, let's put on a splashy running event which has nothing to do with petrochemicals, you know, to relate to the average bloke).
Vienna, Austria was chosen as the venue – they boast a wide avenue in a park-like setting – it runs about 6.5 miles in a straight line, and only has to be run four times. This time Kipchoge is asked (paid?) to be the only runner (what? Talk about a private race), but there's a phalanx of 41 world class runners to do the pacing. They also had an electric vehicle (no fumes) driving exactly at the 4:34.8 mile pace. In fact (this made me gasp) the pace vehicle blazed onto the pavement behind it a laser rectangle grid so the rabbits had to just run to keep up with the moving laser beam. This means there was no guesswork, and each posted kilometer time was within 3 seconds of each other.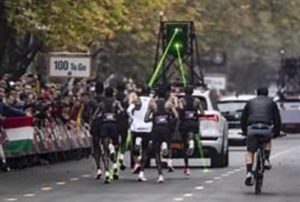 So, Kipchoge ran a completely steady pace, with no variations, no hills, and the date/time (Oct 12) was 48 degrees, with slight rain at the start at 8:15 a.m. …that's Austrian precision! Everything was calibrated to allow NO flaws. And Kipchoge had trained well and stuck to the script perfectly. With 1⁄2 mile to go he broke free from the rabbits and almost coasted across the finish line. The INOES company obviously had a much better PR manager than Nike – there were thousands of spectators along the course, urging Kipchoge on. Again, this was no private race, it was a spectacle devoted to one Eliud Kipchoge.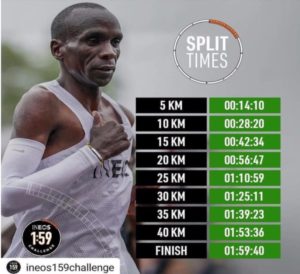 What amazed me was the Guinness Book of Records did recognize this as a world record, though the relevant sports federation did not. Oh well. And one last thing, an interview mentioned that the bicycle always by Kipchoge's side, the one who handed over his drinking bottle (I wonder what was in it…) would quickly send the bottle back to be examined by the handlers where they determined if he was getting too much or too little fluids down his throat so they could tell him to drink more or less the next time. In my book, this is NOT an unassisted race. Yes, Mike Wolfe had friends at each Aid Station on the Bridger Ridge Run to hand him bottles of whatever he was drinking that day. So, he really could just run the darn thing without having to stop. My gosh, I wouldn't want that! At each Aid Station I counted on the many minutes spent sitting down in the shade of a tree and casually drinking/eating to my heart's content. Oh, I wasn't going for any record, that's right 🙂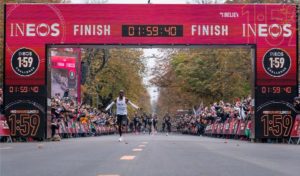 In wrapping up this exposé (I mean article) I discovered that the Women's Marathon World Record was set the very next day (after Kipchoge's) in Chicago. No hype. No conspicuous sponsorship from big international corporations, no splashy anything. There she was, Brigid Kosgei, also a Kenyan. Oh my gosh. She took a minute off Paula Radcliff's record from 2003 that had stood for 16 years. So let's find out about Brigid.
Granted, she wasn't trying to do anything but run her best. There was no fanfare about breaking a mystical barrier of time. Well, Paula Radcliff's WR of 2:15:25 had been that impossible barrier to break – for over 16 years. Maybe I'm so amazed and upset that there weren't thousands of fans urging her on like Eliud had just the day before. But then if I had been following her career, maybe I would have been one of those thousands to cheer her on!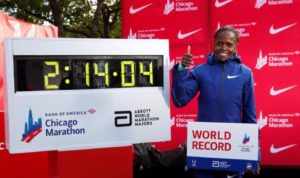 In contrast to Kipchoge, Kosgei is a rather quiet person, keeping her personal life to herself. I did find one interview where she was asked about having children while training to be a world-class runner. She was very frank, and in so many words said it's just a natural thing, and her advantage was being able to raise two wonderful children. It seemed so obvious she didn't have a "handler" at her side during the interview and having this other person do the talking. Nothing was rehearsed. Looking over all the statistics, it's interesting that both Eliud and Brigid won the 2019 London Marathon as well as the Tokyo Marathon. And, like Eliud, Brigid has a long string of winning the world's most prestigious marathons.
As an aside, I have to comment on the official name of the two marathons where world records were set: the Virgin Money London Marathon, and the Bank of America Chicago Marathon…get my drift? $$$$$). The last similarity I could find: they both were wearing Nike's infamous Vaporfly shoes.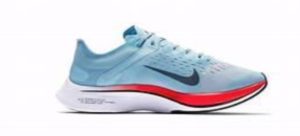 You just can't get away from it. I better stop here before the blood pressure goes up any higher 🙂
Hmmm, does this article assuage my not running anymore?