If you run our Froze Nose Run in February, see if you can improve enough at our March run to win!  Even if you don't run in February, join us for this March event!
Our February "Froze Nose" and March "Handicap" run are paired events.  They are run on the same course, one month apart.  The idea is to challenge yourself to improve your time between these two dates.  Based on your run time in the Froze Nose, you will receive a time 'handicap' that will determine your start time for the March run – for example, if Runner 1 finishes 2 minutes ahead of Runner 2 at the Froze Nose, Runner 1 will start 2 minutes after Runner 2 at the Handicap Run; if both run the same time in March that they did in February, they would finish the March run at the same time.  Thus, those who "win" in March will be the runners who improved their times the most, not necessarily the fastest runners in the field!
Those who did not fun in February will receive a 'standard' start time in the March event.
The start times for the 2024 run will be posted after the Froze Nose Run in February.

Courses: we will be starting in front of the Town & Country building, on South 11th Avenue.  Sign-ups for the run will be in front of Bridger Brewing (in the lobby, if the weather is bad).
We will offer 1-, 3-, and 5-mile courses.  See the course maps below.
Short :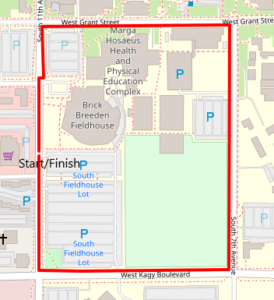 Medium :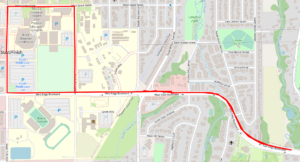 Long :