By David Summerfield
I keep wondering if the next time I google "New World Records Set" – nothing will come up. Today of course, it happened again. Many new running World Records have been set this year, and here's the big one.
I have to bow down to Eliud Kipchoge. Let's get it over with: he's 37 years old, he's 5'6", and weighs 115 lbs. (He's already in that class of athletes who are diminutive – in comparison to the rest of humanity). His discipline and strength of mind are over the top. He trains like it's a business, and admits freely he works so hard to inspire people to go do the same. I think it's sorta rubbing off on me (okay, in a rather teeny way). It can't help but inspire anyone who has an ounce of drive to achieve anything. At this year's Berlin Marathon (Sept 25), he went into it knowing "it would be a good day". And having won his last 12 marathons with several world records, including 2 Olympic golds, he knows a good day from a bad day. From his interviews, it's very clear he was totally convinced he would not only win, but lower his World Record….which he did by another 30 seconds. He also told the press he knew he wouldn't go under 2 hours, which was only 69 seconds shy – but the fact that he knew that going into the race? This guy is totally in control of his running environment. So, he ran a 2:01:09, and looking at the videos, he ran the pace he practiced for many months at his high altitude training camp in Kenya, called the "Global Sports Communications Training Camp in Kaptagat.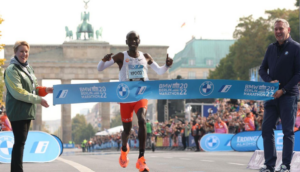 Eliud Kipchoge's WR – outsideonline.com
OK, the amazing stats in Berlin: His 1st 5k was run in 14:14 (yikes). At the 10k mark he did a 28:23….(only 30.2 kms left to go:-) The 1⁄2 marathon was done in 59:51. He was on pace to go under 2 hours again, in a real road race. He admitted to running a minute faster in the 1st half, but as he put it, "my feet were fast", so he went for it. He had 2 of his favorite "rabbits" who he ran with for the 1st 25k, then it was running with his real competitors (the Ethiopian pair of Guye Adola and Andamlak Belihu) who dropped back (I mean….they couldn't keep up) and the last 15k he was all alone, finishing almost 5 minutes in front of Kenyan Mark Korir (2:05:58) and Tadu Abate (2:06:28).
I have to also mention the woman's winner – Ethiopia's Tigist Assefa, who set a course record and ran a 2:15:37, the fourth fastest time in history (which was 18 minutes faster than her previous personal best and 1st marathon, earlier this year)…and she was only 12 seconds behind Paula Radcliffe's 2:15:25 (London, 2003).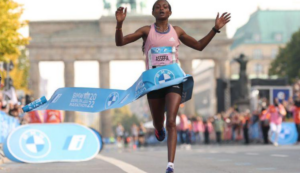 Tigist Assefa winning Berlin – Fana Broadcasting Corporate S.C.
Since she was an "unknown" – there is currently no info about her life, training, anything. That's a shame. Perhaps now that she has run the 4th fastest marathon ever, she'll be followed more closely by the Wikipedia people
🙂
And now onto my gleanings from Kipchoge's many interviews, especially from "Olympics.com" – which revealed so much about the man, how he trains, and what he thinks about this whole running stuff. Interviewed the week before Berlin, he said "I am the best one…I am going to Berlin to run a very good race that will make everybody get inspired and love marathons." And right after setting the WR, "There is still more in my legs and I hope the future is great. The mind is thinking wise, the body is still absorbing the trainings and racings." He described how he had 4 hard months of intense long runs with fartleks…I also read he got up to 200k running per week (120 miles) with fartleks. OK, that's what it takes I guess. (I skate-skied that much one week…) I realized Eliud focuses his whole being on his training, as you'll understand with these quotes: "Marathon training is tiresome, cumbersome, and very long." The four long months of training in his mind is just the physical part, and the week before the "Big Run" is when the mental game begins: "A human being is his mind. When your mind is okay, then your muscles are good. Now I'm trying my best to convince my mind that I've done a thorough training.
I have done enough. My legs and muscles are ready. And on the big day, it will be to implement all these things." It seems so easy to visualize Kipchoge getting ready to race, knowing his physical training has gone well and is finished; and all that's left is to set the mind on the goal. He practiced running at race pace (over 13.15 mph, or around a 4:36 mile) and found that if he only did 80% effort, with those spurts (fartleks) thrown in here and there, his body would be ready. His key was a long build-up over months, so the intensity would not cause injury. And these long weeks of running ended with only 1 week of tapering.
Speaking to the "Olympic.com" people, he thought about his future: "In front of my mind, I know one day I will call time on the sport…It's good to see those that have been high with a huge following, retiring and venturing on other things. And that's a big inspiration for me, that if you start something then it must have an end. But it needs to end when you have had a huge impact." As he put it in another interview (I can't find it again, sorry) – he said after his WR that his feat will reach 3 billion people, and that's wonderful, just think of all the people being inspired to go do the same thing!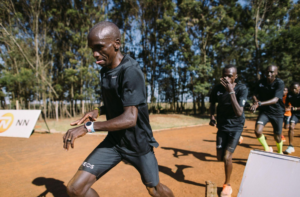 At Eliud's high altitude training camp runblogrun.com
I know some of you might be interested to know every detail of his training program, so you too can run a sub 2 hour marathon…..ahem….but it is interesting to the rest of us too: go to "https://sportcoaching.co.nz/kipchoge-training-program-guide/" and get your Ugali and Managu ready to give your body what it needs 🙂 (Oh, those are staple foods in Kenya, a type of cornmeal mush and a leafy-green) Happy getting ready for YOUR next marathon!