The Mature Runner
By David Summerfield
Due to Stacy and my trip to Canada this October, I had to find out about Canadian runners. We were mostly in Nova Scotia, which has its share of great runners, but I then realized Ed Whitlock (born in London) had emigrated to Quebec and then Milton, Ontario, and further research revealed what a wonderful person he was. He died in 2017, but reading some interviews with him, he instantly became my overall hero. He was known for his gentlemanly demeanor, gracious smile, and flowing white hair. But what got me hooked was his total lack of ego in the face of recording world records over the course of several decades.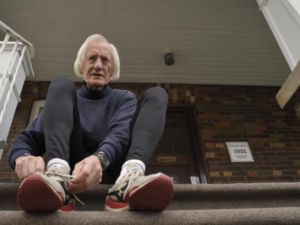 (20 year old shoes work perfectly well! "perfectbodybywil.blogspot.com")
In his youth he did compete a lot (shorter distances) and I couldn't help but notice his height/weight (something I've become a little bit too obsessed with lately). He only weighed 112 pounds at 5'7". Those statistics seem to be the preferred ones for fast times (see previous articles concerning record-breaking Kenyan and Ethiopian runners). As is the case with the normal lot, he put aside "serious" running for his professional career as an engineer, graduating from the Royal School of Mines, Imperial College. He landed in Ontario when he was 41, and only started marathon running when his youngest son had been training to run a marathon himself (his son had run everyday for over a year as his training). He talked his dad into running with him – Ed had tried to dissuade him – but surprised everyone by running a 2:31:23 marathon as a 48 year-old. Yikes. Yes, he enjoyed running fast times on the track throughout his life, but he got really serious about running when he retired. His stated goal was to be the 1st person over 70 to run a marathon under 3 hours. Ed made sure he could do that by running the Columbus (Ohio) Marathon way under 3 hours for the 1996-2000 years. He got his goal when he was 73 at the Scotiabank Toronto Riverbank Marathon by running a 2:54:48. And in Rotterdam the next year "…some of the world's best marathon runners, Kenyans in their 20s and 30s, could not fathom why a person my age would be running a marathon and certainly not in that time. I did 2:58:40 that day and it blew their minds," Whitlock wrote in a story for iRun magazine. "This needs to change," he said. "Because if they can't imagine themselves doing the same thing, it will never happen. Why don't they think they can do the same thing?" I like this guy more and more!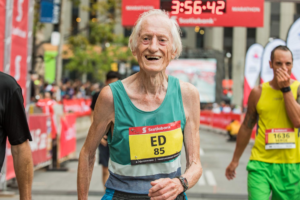 (Ed Whitlock's record "canadarunningseries.com" at age 85).
Here are some of my favorite quips from the National Post interview (Mar 13th, 2017):
"What do you think about when you're running?" he was once asked. "When will this be over?" he replied. Another one: What makes a good marathon runner? Whitlock's response: "Shine a light through their ear. If light comes out on the other side, odds are they're up to the task." Ed doesn't use a GPS watch, and his training regimen was doing laps in the local Milton Evergreen Cemetery. He would just do laps until 3 hours were up, and that's all he needed to do. Alan Brookes (Toronto Marathon race director) said most world record holders would be wearing free shoes from their sponsors. Not so for Ed. Alan noticed Ed's shoes, and swore they must be 20 year-old shoes. He obviously was running for the pure joy of running, though he did admit to enjoying all the attention he got – but it stopped there. As he "slowed" down (sub 4 hour marathons in his mid-80's), he adjusted his cemetery loops to just loops around a gravestone. "I like running in the cemetery," Whitlock reasoned. "Compared to everyone else there, no matter how you look when you're running, you look pretty good."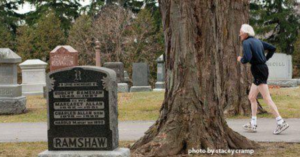 (I'm looking pretty good…in comparison! (The Age of Simplicity "www.runnersworld.com")
How to describe my new hero? Just don't make a big fuss about what you do. Just do it, and be consistent about it all. When asked about what he eats, he just shrugged it off as not important. This implies there are no "Whitlock secrets" to running amazingly fast times for an octogenarian. From what I learned, he was obviously born with a good, sound body (I do believe we all are, to some extent). He trained in the rather "normal" way – doing faster-than-normal repeats in his 40's (this was before he retreated to safe gravestones), some hill work (though all the pictures of him running in the cemetery show nothing but flat, grassy plots), and honing his pace (his engineering background came in handy – floating endless numbers in his head to keep that pace steady). He also chose marathons with very little to no elevation gain (hence Cleveland, Ohio, Rotterdam, and Toronto). But "google" him and see his age-group world records in all distances, from 800 meters and up.
Then I found an article (Ed Whitlock and the Age of Simplicity) written by Scott Douglas forRunners World (Feb 15, 2010). It's a wonderfully revealing article about the real Ed Whitlock! Here are my favorite parts:
"Whitlock lives two and a half blocks from the cemetery, and does all of his training there. Speed work, daily maintenance runs, long runs of up to 3 hours, everything, meted out in loops that take no more than 5 minutes. He leaves his house with his day's assignment decided and runs loops until his time is up. He doesn't count loops or time them. He does look at his watch frequently and think, 'What is taking so damn long?' The day's loop varies occasionally, sometimes dictated by the presence of grounds crew or gravediggers. He never runs the full perimeter loop. The last little section on the southwestern side of the cemetery would add another minute or so, but it includes a rise, perhaps 50 yards long, with the steepness of a handicap-accessibility ramp. 'I choose not to tackle this hill,' Whitlock explains. 'I don't like hills.'"
"When at the height of marathon training, Whitlock does cemetery loops for 3 hours a day, every day. He doesn't do pick-ups or progression runs or marathon-pace work. He doesn't even stop for water. Just 3 hours a day of what he calls 'plodding' or 'jogging.' 'I run to race,' he says. 'I don't do it primarily for my health or anything else.'"
"Living in Quebec in the '70's, Brenda was at a school sports day when a teenager told her the running club was looking for a coach. 'My wife said, "My husband used to run. He knows all about running," Whitlock says with a laugh. 'A, I don't know anything about running. B, I have no ambition to be a coach. I'm too selfish. But I had been committed. When I went to practice, nobody showed any interest in me. I would just lean against the fence. I thought I might as well do some jogging around the track. This was quite a sight, because old men of 40 didn't run in those days. I kept showing up and jogging around and ended up racing again because of that. It just kind of happened.'"
"Less than six months shy of his 70th birthday, Whitlock ran 2:54 at the 2000 Columbus Marathon. 'I thought, "We're okay now," he says. "Maybe foolishly, I decided to try for sub-3 once I was 70 in London, Ontario. There were only about 300 people in the race, and I got hung out to run by myself the last half of the race." Whitlock missed the mark with an agonizingly close 3:00:23. The 2- and 3-hour runs built on each other, and at the 2003 Toronto Marathon, at age 72, Whitlock met his goal with a 2:59:09. The following year, with several months of plodding buoying him, he returned to Toronto and ran 2:54:48. About that race, Whitlock, who is not given to rhapsody about life's endeavors, says, 'That was a good day. It was never a struggle.'"
"Whitlock, who says, 'I stay away from doctors, they're bad people,' last had a physical exam when he was 40. His uncle Arthur was Britain's oldest man when he died in 2000 at age 108. Whitlock last took an aspirin during World War II."
"'Running should be a pastime,' he says. 'All sports should be a pastime. There shouldn't be all this professional stuff. I believe that Paula Radcliffe is drug-free, but I do think she pushes the envelope of being a professional runner to the extreme. I don't mean to single her out, but she's living an artificial existence. She's always away from home or sleeping in an altitude chamber. She has this entourage of people constantly around her poking and prodding. That's so far away from what I do and how I would want to live. Monomania leads to terrible things.'"
(Famous World Record old shoes "timenote.info")
All I can say at this point is….are there realistically any world records left to be achieved? It's hard to come up with any for me. Darn. Maybe if I just keep on "doing my thing", one will present itself, and I'll get back to hone my body to do the impossible. And I hope I can find a handy cemetery nearby. I like the idea of just getting out there, no counting of miles, loops, or hours. Just jogging along. And I've accumulated enough "not worn-out enough Hokas" to last me several more decades. I'm all set. Don't count me out, okay?