The Silva – Laroupe Duo Set A High Standard!
By David Summerfield
A headline today really caught my attention: the name Germán Silva brought back so many memories that had fired my imagination 28 years ago. He won both the 1994 and 1995 New York Marathons (2:11:21 and 2:11:00) as an unknown Mexican in the running world. He even took a wrong turn with 0.7 of a mile to go, corrected his mistake (and his last mile was a 5:11) … and won a few steps ahead of his countryman and training partner, Benjamin Paredes.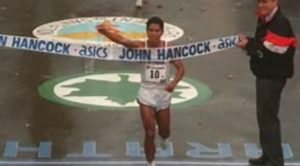 (Photo from sports.vice.com)
He epitomized the unpretentious, humble, quiet runner who just knew how to run fast and long. I had completely forgotten about him until I learned he's been running the entire length of Mexico for the past three months, averaging over 30 miles a day … even though he retired from professional running almost 20 years ago. I remember he took his New York Marathon winnings and helped bring electricity to his hometown.
But this current run of his … he's supposed to finish on Feb. 20 at Tulum, in the Yucatan, overlooking the Caribbean Sea. Of course, he is being tracked by all the high-tech instruments cataloging every step of the trek, and he has covered 3,134 miles. On the map, you see him starting in Tijuana, on the Pacific, and he made sure he visited all the important aspects of Mexico, going through 17 states – this is a trek to publicize the real Mexico … as he put it, he ran the full length of the "veins" of Mexico. He didn't skirt around the drug cartels – he went right through the heart of the cartels, being filmed the whole way by his support crew (his wife, kids and physiotherapist). He wanted to show the normal world of the cartels where people don't get killed – being stopped by armed gunmen though, explaining what he was doing – seeing their faces light up who then called ahead to the next checkpoint where he was greeted with open arms. He climbed to the summit of Mexico's highest peak (a winter ascent!) – Pico de Orizaba (or Citlaltepeti), at 18,491 feet. It straddles the states of Veracruz and Puebla, and is the 3rd highest peak in North America behind only Denali (Alaska) and Logan (Canada). It is really worth looking into the reporting of Kevin Seiff of the Washington Post.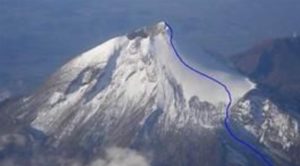 (The route up Pico de Orizaba. Photo from exploringtherockies.com)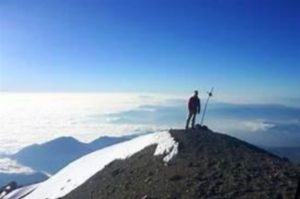 (The summit of Pico de Orizaba. Photo from summitpost.com)
He was followed by his own film crew who took great pictures and he relates his conversations with Silva. Kevin had just run a 2:48 marathon before meeting with Silva, and tried to run with him on a "typical" 30-mile day. Just as I would have, Kevin thought he surely could keep up with a 54-year old who'd been running for over 1500 miles, and had been having some physical problems. Little did he know that toward the end of that day, they had to climb (jog) over a mountain on a rocky trail (the support vehicles had to take a different route). He realized he'd blown it, said good-bye, and quickly retreated to find the support crew going down the rocky road. I love Kevin's reporting as they first met to run together: "His toenails were falling off. His left calf hurt. And his right hamstring. And basically everything else. He was 1,574 miles into the journey, deep in the mountains of central Mexico. Silva guessed we'd run 32 miles or so, but he wasn't sure. 'I'm not feeling great. You'll have to be patient with me,' he said so tenderly that I believed him." As Kevin wrote in his article: "The run he says, is meant as a pivot away from the country's narcos-tequila-and-beaches caricature; a nod toward something less Hollywood, less Instagrammed."
This storied runner obviously still had his mojo going quite well!! I found out that Silva started coaching kids in his hometown, and over the years it became his profession– coaching people of all ages. He was a national hero after all. And then he started organizing races, formed his own company, and still leads a very active life, supporting runners all over Mexico.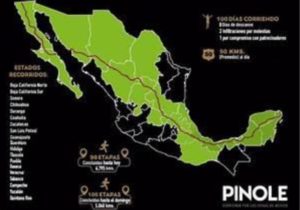 (The route going over the "veins" of the country. Photo from cronica.com.mx)
In trying to find out if he made it to Tulum, I went through the Internet asking, "Did German Silva make it to Tulum today?" I was saddened to see that the vast majority of articles that day wrote about all the killings going on in Cancun, Tulum, and other popular Mexican resorts. Silva obviously has a huge role to play – or rather a very long path up a very steep slope to change what's going on in Mexico!!
I was also happy to see his work promoting a good, healthy running community which earned him many accolades – the Abebe Bililla Award for promoting running in the Mexican community; and through the NY Road Runners, the King Felipe of Spain "Prince of Asturias Award" was given to Silva and Tegla Laroupe! Oh, my gosh – Tegla Laroupe! I'd forgotten about her too! So, of course I had to look her up! I'd forgotten she won the NYC Marathon the same years as Silva, and for a while she held the world record of 2:20:43. And she established the Tegla Loroupe Peace Foundation "Peace Through Sports". And her story has to be told now.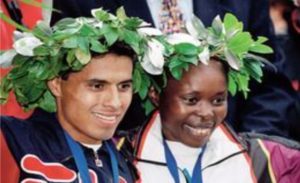 (Tegla and German, happy winners in New York City. Photo from wsj.com)
She was one of 24 siblings, her father having 4 wives – part of a tribe of northern Ethiopia. Her father told her she was useless and would end up just babysitting the rest of her life. Well, school was 10km away, which she ran to and from every day. She realized she was faster than others, and tried to get help from a national sports federation, but was deemed too small and skinny. HA! She went on to win all the most prestigious marathons in the world many times over! And her dedication to promoting world peace through sports caused Kofi Annan (Secretary General of the United Nations) to name her the United Nations Ambassador of Sport.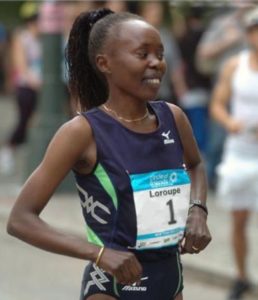 (Photo from Pinterest)
So, what do we learn about all these extraordinary runners who came from incredibly humble backgrounds? They both excelled beyond their wildest dreams, and with their winnings, they gave back to the world in wonderful ways. I can't help but ask, dear reader … you probably haven't come from such humble beginnings, but how are you (we, me) giving back to the world that has nurtured you? Yes, you're working to provide a comfortable living for yourself and your family, and once that's taken care of….what else can you give? I think this running community of ours (BSWD) is a great place to start, as most of you already know firsthand!! And I congratulate all of you who are giving so much to this great running club of ours. The Secretary General of the United Nations probably won't be giving you an ambassadorship anytime soon … but heck, then you'd have to start a global running organization, and your life wouldn't be yours anymore. So I DO admire Germán's and Tegla's ability to give their whole lives to helping others. Their example is a great shot-in-the-arm to do our part as avenues open up! Happy March, and happy melting of the snow and ice 🙂
-David