He Won the Ridge Run…and Then Everything Else!
By David Summerfield
In the search for something interesting to write about for this newsletter, I chanced upon the official list of running world record holders for every distance and age category imaginable. I had fun learning about (again) Derek Turnbull and his running exploits, which are worth noting again. He is a New Zealander, lived to be 80, and started running when he was 40. In a 3-month span in 1992 (65-69 age category), he set six World Records, ending with the London Marathon in 2:41:57! I remember finding out about that some 20 years ago, and instantly realized I would never set a world record in the marathon. Sigh. (His other records include a 4:56 mile, a 16:38 5k, and a 34:42 10k). Here he is setting one of those records!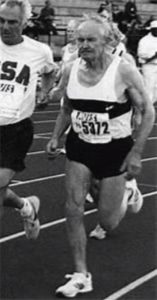 (Photo from mastersathletics.net)
So then I went down the list of various distances, and my eyes popped out when I saw Jim Walmsley as having the fastest ever (in history) 50 mile run last year. Somehow I consider Jim a "local" hero, even though he didn't set the BRR record. As I remember he was having foot problems from a previous run and was trying out Hokas to ease the pain (he needed more padding). He signed up just like everyone else and made it through the lottery somehow. I remember his essay included the fact that he could run well and was likely to be a potential winner. Here's what the official BRR plaque says, 3:14:03! But he won, even though the year before Minde Erickson ran a 4:13:37!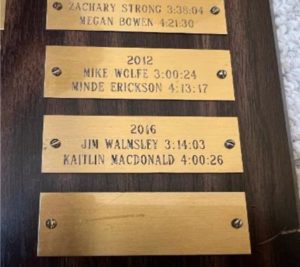 All I could remember of Jim was his outlandish Rim-to-Rim that same year. So, I was propelled down memory lane once again…In 2015 Stacy and I did the Rim-to-Rim (south to north) of the Grand Canyon in a mere … 13 hours. Here we are arriving at the North Rim Trailhead, which would be Jim Walmsley's start and finish just two months after his BRR in Bozeman (how egotistical to put us in any kind of league with the world record holder, but it's sorta fun:-)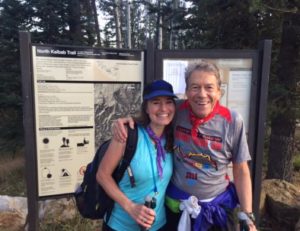 After we met Greg Young, Terry Leist, and Carrie Krause at the North Rim we all feasted the night away, and sent them off to do the North-South route the next morning…in a mere 7 hours. Here are the 5 of us the next afternoon as the trio arrived at the South Rim Trailhead: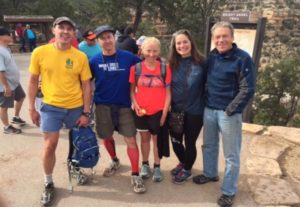 That seemed SO fast to Stacy and I – almost twice as fast 🙂 Then along came that Walmsley fellow who had the audacity to do the R2R2R in a FKT of 5:55. Sheeesh. That was no "mere" time! He had moved to Flagstaff, AZ, so was a short drive away from the South Rim. He did "repeats" down into the Canyon and back, honing his skills and comfort level (even if agonizing pain is the price of getting comfortable tearing down the path and back up). For those of you who haven't done this yet (and really, you should) there are 1000's of steps created in the paths with logs or rocks as steps and those steps (to cut down on erosion) are between 6" and 12" high. And the steps are anywhere from 2 to 6 feet apart, so the body is constantly landing hard at irregular intervals. And going up, there's the constant need to hoist yourself up ever changing heights. Stacy and I got worn down, and on the way out to the North Rim we pulled out the hiking poles so we could more easily push our way up each step. Jim, on the other hand (and there is NO comparison of course) developed his strength over time, and also knew every bend in the trail so well. He developed a "battle plan" over several years, especially using conversations with Rob Krar (the record holder before him in 6:21:47). It is really worth the read (irunfar.com/jim-Walmsleys-grand-canyon-r2r2r) for those interested, especially if you intend to even do the "simple" crossing (Rim-to-Rim). Here is Jim finishing the first half of his trip, arriving at the same kiosk as us the year before – actually, his time for the South-to-North was a FKT as well. 2:46:08 … hmmm, that means he was 5.3 times faster than our trip. Okay, he's fast!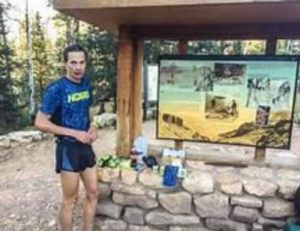 (Photo from Runningmagazine.ca)
In his account, he had an encounter with a mountain lion down near the Colorado River, and his watch recorded 2 consecutive 5-minute miles as he "ran for his life". It was still dark, and all he saw by headlamp was the glowing pair of eyes, and the long tail disappearing up a nearby rise as he went by. He figured that must have changed his game plan, and as he neared the North Rim, he figured he should just stop, knowing he had already gotten a "fastest known time". But there was a crowd there, and everyone was expecting him to continue going for it. I like the look in his eyes… "Darn it all, I've just had the run of my life, and you guys want more….can I really pull this off?"
While getting all this information, I finally found out another reason he's so famous. Back in 2016 he had gotten to mile 93 in the Western States 100-miler, and was way ahead of everyone else. Then he made a wrong turn, and lost enough time to only come in 20th. His last 3 miles took him an hour – he was broken! That set him up for a major depression, and the Jim Walmsley we saw at the starting line of the BRR was a much chastened and recovered ultrarunner. The 2016 Western States was run on June 25th, just 6 weeks before the BRR that he won. Seems like he was maturing the champion he was to become. By 2018, he entered the Western States again, and broke the course record, and broke that record again in 2019 (14:09:28) and won again in 2021 (14:45:56). Somehow with all these records flying around, he is staying healthy and if you go to the Wikipedia thing, they list all his 1st place finishes. It's a long list.
And the last thing I really wanted to write about was his actual World Record 50-miler. It happened May 4th, 2019 in Folsom, CA, and he ran the "Hoka" event on a USATF-certified course that includes an 18.8-mile point-to-point stretch from Folsom to Sacramento on the American River Parkway followed by nine consecutive loops around a 4.7-mile circuit in Sacramento. The more I read, the more nauseous I felt! This was a publicity stunt! Everyone (12 hand-picked elite HOKA runners) ran in a "top secret" shoe called the "Carbon-X", but that name was a secret until May 4th. Of course, the shoes were available in stores on May 15th – be the 1st on your block to own a pair….. And this next piece is taken from an article written by Adam Ruggiero at "GearJunkie": "The 36-year-old 50-mile record fell to Jim Walmsley running in a pair of HOKA ONE ONE's Project Carbon X, a shoe release focused on breaking road running records.
A dozen HOKA athletes, all striding in the same pair of shoes, pounded the pavement Saturday in Folsom, Calif., each of them focused on setting records. Dubbed Project Carbon X, the event was part athletic endeavor — the 100km course received USA Track and Field (USATF) approval and was eligible for IAAF world record status — and part publicity stunt for HOKA's upcoming racing shoe, the Carbon X.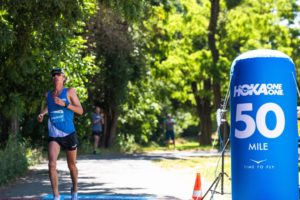 "And while the coveted 100km record eluded the HOKA fleet, 29-year-old American Jim Walmsley managed to take down the 50-mile record set by Bruce Fordyce in 1983. Walmsley eked past Fordyce's 4-hour, 50-minute, 21-second mark with a new record time of 4 hours, 50 minutes, 7 seconds."
There. For those of you who follow the current ultrarunning world, this is old news. But for the rest of us, I've brought you up-to-date a bit. Who among us has been the 1st to buy a pair of Carbon-X's? Do any of us really wear 8.5 ounce shoes? I need gobs of cushioning. Well, Kyle Klickir probably has a pair – right Kyle? Anyway, happy melting of the snow and ice, and hello to the mud and receding snowfields!!