The Mature Runner
By David Summerfield
I'm no longer trying to set world records. So now I can fully pontificate on those who achieve world records in a surprising way. It's called "Wavelight." Remember reading about the various marathon world record stunts which used laser-produced glowing red squares moving ahead of runners cast by a vehicle moving at exactly world-record pace? All you have to do is follow the red square, and you'll end up in the Emerald City….errr, the finish line! Well, this latest invention installs LED lights set-up on a track oval every meter, with the lights turning on at the prescribed pace to achieve whatever you need! It could be for interval training on a track, or for elite world record attempts. They say the audience loves it – they can see if the lead pack or front-runner is going to set a WR. Here's a little history of this newest innovation using the latest technology to the aid of runners.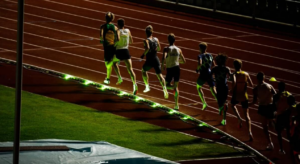 Just Follow the Moving Lights! via reddit.com
I have to speak out on this recent development. The "Wavelight" system became official in 2020 when the World Athletics granted its approval for use in track meets. There has been an uproar, since world records are being set on such tracks – offering an obvious unfair advantage not available in previous world record attempts. A little history – Robotronix Europe and Sport Technologies developed the system, though it had been used before on tracks not worrying about international rules. Originally it was banned by the World Athletics (rule 144.3) – considering it "pacing by any kind of technical device". Then in 2020, the WA added a new "rule 144.4" which allowed the moving lights around the track, because it was not considered assistance to pacing. Why? Because it was not an aid to runners but a "new service" for the spectators. (?) Wow. Suddenly the moving lights weren't seen as an assistance "of any significance to the athletes". It appears the track world was needing spectators, thus this was a financial decision! Oh, the purity of running just got smeared. Will all local tracks start saving up their funds to purchase a "spectator-enhancing" gimmick to spur on ticket sales? I hope not. It's pretty hard to imagine the MSU's athletic department requesting extra $$ in next year's budget to install the Wavelight system. Okay, I might buy a ticket to one of their track meets just to see it in action…but on 2nd thought, I think not!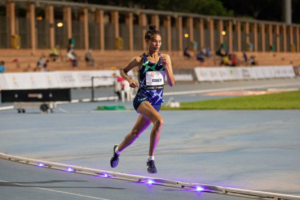 Wavelight during a track meet. Via trackandfieldnews.com
As an NCAA Div III track coach back in the '80's, I attended a track and field workshop (I think in Kansas City) where Sebastian Coe (who held the WR in the 800 meter) was speaking, along with his dad and coach Peter Coe. Their British accents made their presentation all that much more riveting. Their topic revealed how Sebastian was able to establish the WR due to his dad's grueling workouts based on uphill "fartleks". I paid rapt attention, and included their advice with my distance runners. So I was crestfallen when I found out the president of the World Athletics Council was none other than Sebastian Coe. The organization started out as a governing body (IAAF – International Amateur Athletics Federation) for amateur running events in 1912. Being an amateur organization (receiving no money for running), and trying to keep the sport from being a way to earn money, used to be so important. Runners were banned from competing if the IAAF discovered money had changed hands.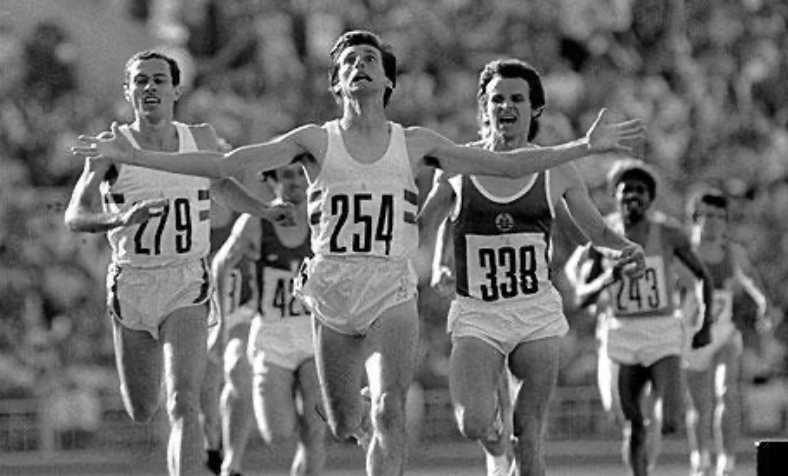 Coe winning an 800 meter race. via historyofsports.org.
His WR 1:41.73 stood for 16 years. That race was held June 10th, at 11pm in Florence, Italy.
At a press conference 2 years ago, Coe concluded this new lighting technology was a useful information tool to help spectators better understand and appreciate the efforts of the athletes. GRRRR. I might be overreacting here. How about the invention of the stopwatch mounted on a regular 'ole wristwatch? Aren't they "technology" too? Just one more technological aid, I guess. And Timex watches have never been banned! My Timex definitely "aided" me in running faster, by knowing my exact splits so I could compare my progress toward setting a new PR on a run. Heck, I used it yesterday to establish a new PR on a 2 mile course up here in the Cathedral Mountain Ranch (3 miles past Nye, Montana). Of course it won't be found in any published record book…but still deeply meaningful to me! That device on my left wrist spurred me on to dig deeper than before, and I reveled in the triumph when I got home. So, now there's a 29:29.34 record to memorialize the effort: Dry Lake Trail to CMR Trail, to Elk Park Trail –
turnaround at the very top (highest point in CMR), and retrace back to the front door of 8 Dry Lake Trail.
You see, I wouldn't be trying to break personal records if there were spectators around. That would be embarrassing. Running is not a spectator sport, or at least shouldn't be … or….wait a minute, I'd love to watch an Olympic T&F meet! I'm glued to the screen anytime an elite marathon is on. So, I'm guilty. And knowing exactly (to the split second) where the about-to-be-broken WR pace is….again, I'm guilty. It would thrill me no end. So I've just debunked the whole premise of this article! Free reign to the latest technology! Bring it on! Where's the limit? I suppose World Athletics might be checking elite runners to see if they've implanted some silicon chip in their bodies to overcome pain? Sigh. Just putting that in print almost guarantees it'll happen some day. But not on my watch.
PS: Well, I just checked the internet, and this is already being done – all the tests on animals have perfected the procedure, and I'm sure human guinea pigs were used as well. What's to keep well-meaning scientists (entrepreneurs…) from developing a clientele of willing innovators to hook humans up with chips in the brain, to turn-off the pain centers? My daily dose of Ibuprofin is so tame!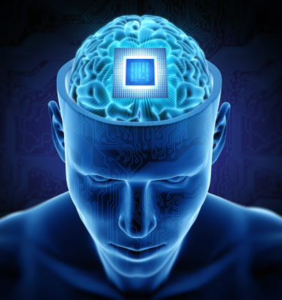 Brain Chip! Why not get hooked up to AI – why not be superhuman?? Via istockphoto.com