By David Summerfield
And I thought I'd finished getting caught up with all the broken World Records out there! Ha!! A new one just happened, and it happened as I write this article – so, many of you probably know all about it! One remarkable Jacky Hunt-Broersma decided to see how many marathon-distance runs she could pull-off on consecutive days. The recognized record was 100 in a row, and as she was finishing her 82nd, along came Kate Jayden, a British lady who did 101. So, Jacky's quest had to go at least to 102. The Boston Marathon (April 17th) was her 92nd in a row, and finished in 5:05:13 (it was a windy, rainy day). That's just under a 11:30 mile pace…about her average on her daily marathons. That's quite a feat, but more so since she was running on one good leg – the other was a stump taped to a carbon-fiber running "Blade". As it turned out, after she finished #102, she thought "why not do 2 more, so I can finish up April with a marathon?" Here she is on #104: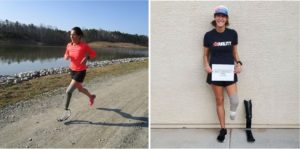 (Jacky on her 104th marathon from gndiario.com, and #102nd from mybestruns.com)
In April 2020, she took on the challenge of running 100 miles on her treadmill, at home – this was when all races had been canceled due to the pandemic. She took part in the The Aravaipa
Strong virtual race (100 mile division). The races featured over 2,000 runners worldwide from 29 different countries. Ten percent of the proceeds from the race were donated to the COVID-19 Solidarity Response Fund. She finished in 23:38:44…. a world record for amputees! (Just so you know, that averaged a 15 minute mile, including potty breaks, and getting off to eat meals.)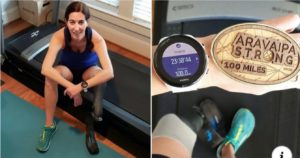 (Just finishing the 100 miler from blocorrendo.it)
"'I did it!! 100 miles in 23hr 38 on a treadmill,' she wrote in the caption. Still, don't let the pic fool you. 'This is by far the hardest thing I have ever done,' she continued. 'I look a little tired in this photo . Everything hurts, my stump is bruised and full of blisters and I will be doing a shuffle for a while, hahaha but it was so worth it.'"
– Korin Miller, April 27, 2020, Women's Health magazine
It was interesting reading all the articles about her. She grew up in South Africa, and moved to the US, living in North Carolina while going through the tough readjustment to losing a leg (in 2001). It took her 15 years to decide to try running – admitting she always hated to run, but figured it was worth the challenge. She entered a 5k, and finished, and somehow, that's what lit the flame that completely transformed her life….from being an amputee – to being an exceptional runner who happened to have an artificial leg. Notice the difference in these 2 pictures: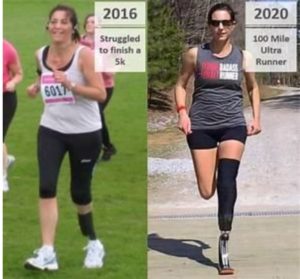 (What 4 years can do! From pinterest.com)
I love her story. It reminds me of Kraig Kempt who finished the 2018 BRR in around 10 hours. He had no blade, only his left hiking boot somehow attached to the prosthetic. And it seems Kraig and Jacky had very similar motivations. Based on what Kraig told me, and what I read about Jacky – they both had a tough adjustment after their legs were amputated. Kraig's was due to a fall he sustained off a cliff up in Bridger Bowl, while he was filming some of his athletes working out with the Alpine BSF team. He was a strong athlete himself, but NO runner! Losing his leg was akin to losing his life. A therapist suggested he find an impossible challenge to take his mind off his loss…and thus he entered the BRR. He was not a runner by any stretch – and had to learn to run – with only one working leg. And he succeeded.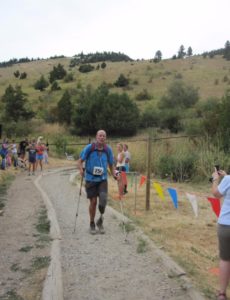 (Kraig at the finish line – Photo by David Summerfield, Aug 2018)
In speaking with Kraig after his remarkable BRR, I found out he threw his whole life into remaking his self-image (those are my words!). He was determined to do this – obviously an impossibility by all standards. He said he climbed up to the top of Baldy so many times – learning how to negotiate all those tricky spots….I remember asking him specifically about the spot where you get out on a big boulder with a tree growing next to it, and you have to hoist yourself down to the ground below, using the tree. He knew the place well, and had figured it out. When the snow cleared, he practiced climbing up Sacajawea over and over.
This is how he figured out how to deal with the rubbing of the prosthetic on his stump – the blistering, not to mention the pain. And Jacky had to go through the exact same things. I didn't know the "Blade" costs over $10,000, and isn't covered by insurance. But it opened up her whole world. Since this marathon-a-day venture, I've found out the "rules" are not very clear about how to verify you've done it. So, it really enters that gray zone like the popular FKT runners are doing all over the place (Fastest Known Time). You keep your own time, there's no camera on you all the time, no helicopters hovering, no press – just you and the obviously best route you can figure out. Jacky ran loops in her neighborhood (her family now lives in Gilbert, Arizona), loops around her daughters school (while waiting for school to let out), and the treadmill. One day, "day care" fell through, and she had to run the 1st 1⁄2 marathon in the morning, and the other 1⁄2 that afternoon. So, of course she's wondering if that will make people frown! But the impact is all that really counts. I saw somewhere she has over 42,000 followers on Instagram, and receives so many posts thanking her for her example – that she has inspired them to go way beyond what they think they are capable of. That's all that really matters. I'll close by a great picture of Jacky running side-by-side with her daughter: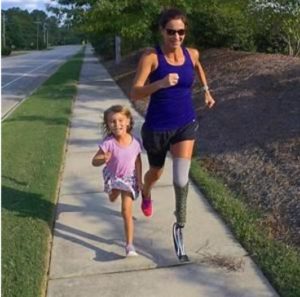 (Jacky and daughter from trailandkale.com)
I can't resist a little postscript: after finishing her treadmill 100-miler, she stopped her watch, with the belt still running, so she just kept on running for a while. Her husband asked her if she wanted to get off….?? This was caught on video. She replied… "Yea, I'm pretty tired". Many of us know the Tom Hanks movie Forrest Gump pretty well, and remember him running down those endless roads near Canyonlands, Utah – with the throng of followers behind him…with him not saying a word. At one point he just stopped, looked around, and in a very slow drawl muttered "I'm pretty tired. I think I'll go home now." (after 3 years of running…)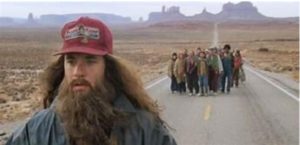 (Forrest Gump out in Monument Valley from pinterest.com)